After more than 20 years of activity with 100% private Romanian capital, we have become one of the most skilled and reliable service providers in this field in Romania. Conference Systems offer you – conference services for Events and Congresses.
With a big inventory of state of the art A/V, professional conference sound systems and the latest full digital Bosch DCN-NG simultaneous translation equipment, digital microphone discussion systems with HD-SDI camera control, beamers from SD to Full HD, simultaneous translation booths, wireless voting and audience response systems, HD live streaming and many others services.
Range of Services
Professional sound systems;
Video projection Systems from SD up to Full HD;
Bosch Full Digital Simultaneous translation systems up to 32 channels;
Simultaneous translation interpreters;
Bosch Full digital Discussion Microphone systems with camera control SD and Full HD;
Live Video processing, Real-time graphics animation and 3D mapping;
Video streaming services;
Lights – Stage and truss systems.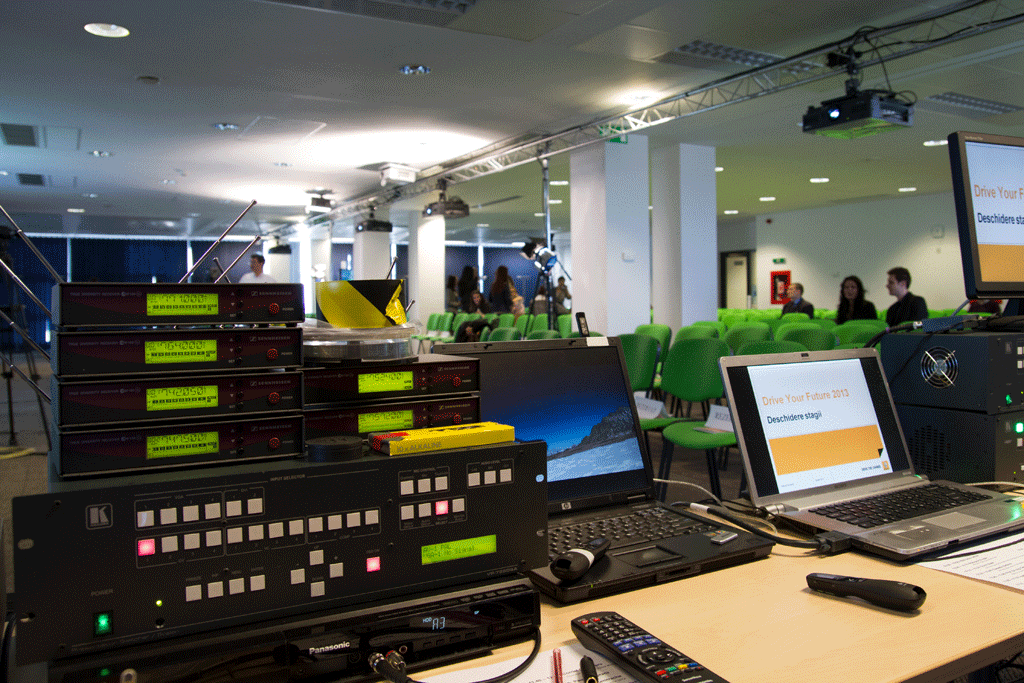 Equipment Details
Bosch DCN-NG second generation, full digital Conference and Simultaneous translation Equipment up to 31 languages;
ISO 4043 simultaneous translation Booths, 2-3 & 4 places;
Integrus Bosch full digital language distribution system – 32 channels;
JBL EON 10G2 speakers;
Mackie Mixers with 12 up to 24 inputs;
Sennheiser Wireless microphone systems – handheld and tie;
Sennheiser & Countryman headset- earset;
Sennheiser Gooseneck microphones;
Pressbox;
PC & Mac computers;
Professional remote control and laser pointer;
Professional AVStumpfl – Fast Fold screens from 2.4×1.8m up to 8x6m;
Panasonic DLP projectors and Christie Digital LCD projectors;
Panasonic Plasma screens 42";
SMS mobile floor stand for plasma 2m and 0.6m- GS certified up to 100Kg;
Real-time Matrox capture cards;
Kramer Video and VGA processing and distribution systems;
TurningPoint – wireless pool and voting systems.
Do you want to contact us?
If you are in a hurry, drop us a quick message and we will get back to you shortly!